Inkolan participa en el Congreso Ciudades del Futuro en Bilbao
El pasado 26 de octubre se celebró la primera edición del Congreso Ciudades del Futuro, en el Museo Guggenheim de Bilbao, organizado por El Correo. 
A lo largo de la jornada se presentaron proyectos, tendencias y líneas de trabajo que interconectan diversas áreas como el urbanismo, economía, movilidad , medioambiente, energía, cultura, seguridad y cambio climático. Todos ellos conceptos clave a los que se enfrentan las ciudades y la ciudadanía en el futuro.
La apertura corrió a cargo de Natalia Olson, emprendedora y experta en ciudades inteligentes y diseño urbano, actualmente  Directora de Gobierno de Plug and Play. 
Lucía Alcibar-Arechuluaga, responsable de Desarrollo de Negocio en Inkolan, participó en la mesa redonda "Ciudades Digitales, la tecnología al servicio de las personas", compartiendo el debate junto a Patricia Molina de Tecnalia, Francisco Javier Ridruejo de Red Española de Ciudades Inteligentes, Gonzalo Pellejero de TECH friendly y Francisco Fernández del Ayuntamiento de Sevilla; la mesa estuvo moderada por Xabier Arruza de Bilbao Urban and Cities Design. 
¡Te contamos todos los detalles de la mesa redonda!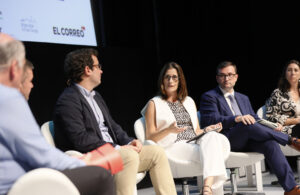 «Ciudades Digitales, la tecnología al servicio de las personas»
Estos seis expertos hablaron sobre cómo poder mejorar la vida de la ciudadanía, y sobre la tecnología como pilar fundamental para transformar las ciudades. 
Lucia remarcó que hay tres tecnologías claves para el desarrollo y mejora de las ciudades: Realidad Virtual; Inteligencia Artificial; y Blockchain. Puso como ejemplo de transformación tecnológica el Gemelo Digital, desarrollado junto con Tecnalia. 
"Los gemelos digitales permiten anticiparse a lo que puede afectar a la gente, al comercio y a las infraestructuras"
Por su parte, Francisco Javier se decantó por los Gemelos Digitales, Inteligencia Artificial (IA), Internet de las cosas y los espacios de datos y sus tratamientos. Puesto que, sus usos están entremezclados.
"Muchas de las tecnologías que están utilizando las ciudades son la base para poder usar otras tecnologías, está claro que hay camino por recorrer pero se está haciendo un esfuerzo importante"
En el siguiente video podéis disfrutar de la mesa redonda.
Desde Inkolan estamos encantados de poder participar en encuentros como éste y confiamos en seguir colaborando en estos espacios de reflexión y debate sobre los nuevos retos de las ciudades donde tenemos mucho que aportar y aprender ¡Hasta la próxima!